The TR3A was purchased in August, 2002. The previous owner had started the restoration, but had not finished. It has sat, waiting for a sucker, er, new owner for the last 6 years.

Some facts about a Triumph TR3:

Fuel Consumption * Gas 26 -32 Miles per gallon

* Oil 3,000 miles per gallon

(It's nice to know that Triumph considered oil a fuel. )

Triumph produced 58,309 TR3As between 1957 and 1962, but it is believed that only about 9,500 survive today.

Here's how the car looks now:


The car in its original, pristine condition
---
There is no rust on the floor panels, not bad for a 45 year old British car.


---
3 days of hard work to rebuild the carburetors
---
No rust in the doors and yes, that is wood along the top of the door


---
Panel is painted and all new knobs, the instrument gauges were clean and the chromed bezels polished
---
A photo towards the back and the gas tank
---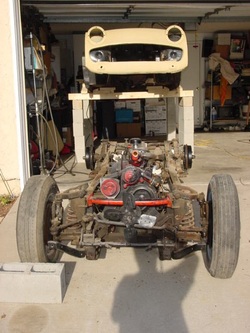 Body is now off the frame. This allows me to work on the suspension
---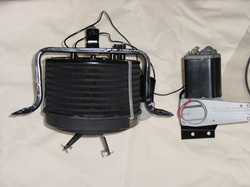 I had to made a park switch and brushes for the wiper motor. Heaters were options on the TR3
---
After 250 pounds of sand and a zinc phosphate coating


---
Frame completely sandblasting. Another 350 pounds of sand
---
Dolly for moving the body to media blasting and painting
---
Check out the door gap some new cars are not this good!
---
Body after media blasting. Bondo will be removed and all panels will be straighten.
---
The tide has turned. Parts are now going on instead of off.
Suspension has been rebuilt with new bushings, ball joints and trunnions.
---
About all I can do to the frame until I get the body back. I have been waiting six months for a new battery box to give the body shop. Should be shipping from the UK this week.
---
Starting to reassemble the engine. I was told that the body will not be completed for another 4 months, that will make over six months in the body shop! I will run out of things to do shortly.
Engine is in the frame. Starter and generator were rebuilt. Note: still waiting for the head.
---
The engine started as if it was running yesterday. Adjusted timing and carbs.
Body should be done in two weeks, but I have heard that story before. Will have to remove the carbs, radiator, generator, etc to drop the body on.
---
Two week became 3 months, but I finally got the car back. New photos after a
month of work.
Final Chapter: